Although the anterior buttress plates have lost popularity, these devices are easy to use and thus, many companies still have them in their product portfolios. Today we present the following 10 systems that are the mostly used:

1.- Binary® Anterior Buttress Plate | Genesys Spine
Designed to optimize ease of use and reduce operation time, the Binary Anterior Buttress Plate features a sophisticated locking mechanism utilizing proprietary Helios™ Technology.
The locking mechanism resists both screw back-out and screw cou|nter-rotation, requires no additional steps for the surgeon once the screws are fully seated and provides an audible, tactile and visual confirmation that the screw is captured by the lock.
Offering plates in 4 sizes, the Binary Anterior Buttress Plate has a smooth low-profile design incorporating lordotic curvature to minimize plate contouring during the procedure.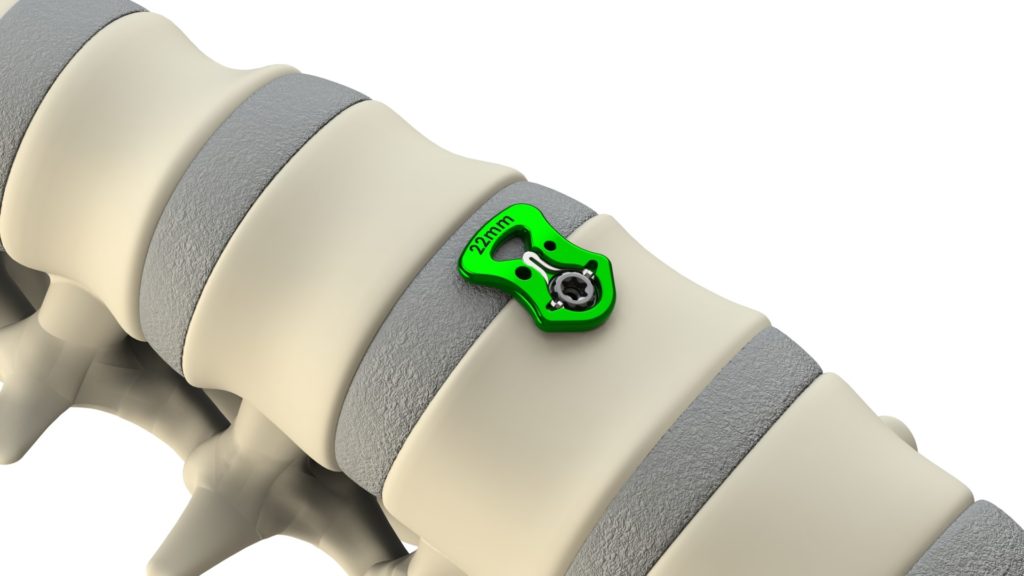 The Helios Technology locking mechanism allows the lock to open as the screw head passes during screw insertion and then return to its original position, capturing the screw head. The interface between the Helios lock and screw resists both counter­ rotation and screw back-out without additional steps.
The Binary Anterior Buttress Plate's profile is low and available in single screw plates. Sizes include 20mm, 22mm, 25mm and 28mm.
2.-RCS® Anterior Buttress Plate | Precision Spine
The RCS® Anterior Buttress Plate System is designed for temporary use in preventing allograft or autograft extrusion. It is also intended to provide stabilization and augment development of a solid spinal fusion. It is designed for fixation to the anterior portion of the thoracolumbar vertebral body. The construct may be employed alone or with other anterior, anterolateral, or posterior spinal systems made of compatible materials. The system consists of plates and bone screws. All components are made from medical grade titanium or titanium alloy and are supplied clean and non-sterile.
Plate system features:

Pre-Lordosed design to match patient anatomy
Simple instrumentation for greater ease of implantation

Sizing:

Width – 25.6mm
Heights – 25 & 30mm
Screw Lengths – 20-35mm
3.- VAIL | Evolution Spine
The Vail ALIF Buttress Plate System is offered in various device configurations based on surgical approach and patient anatomy, and will consist of a Vail buttress plate and screws that are inserted into the anterior surface of adjacent lumbar
vertebrae.
The Vail ALIF Buttress Plate System in conjunction with traditional rigid fixation is intended for use in spinal fusion procedures of the thoracolumbar to S1 spinal region as a means to maintain the relative position of weak bony tissue such as allografts or autografts.
Features:
VAIL's smooth Low Profile Design is offered in three lengths (22mm, 24mm, 26mm) (20º and 30º Angulation) ,  to accommodate patient anatomy.
Self tapping screws 
One step locking mechanism 
One step to seat implant and create starter hole for screw insertion
4.-Kestrel® Buttress Plate System | INNOVASIS
The Kestrel® Buttress Plate System is an anterolateral vertebral fusion plate designed to resist migration or expulsion of interbody fusion devices. The plate features a bi-convex profile to match patient anatomy, large graft viewing window, and integrated fixation spikes to prevent rotation.
Features:
13° Conical variability
8° Pre-lordosed with up to 25° of contouring
Large graft viewing window
20° Additional sagittal screw insertion angle
Dual anti-rotation spikes

5.- Fang Plate Anterior Lumbar Buttress Plate | Emminent Spine
The Fang anterior is a buttress Lumbar plate developed by Eminent Spine with a patented screw capture system- Screw will not back out due to typical linear force.
Features:
Rotational stability with tripod fixation
Smooth contours for vessel protection
8° Lordosis contours to spine to buttress against implant
Broad wing span to prevent implant expulsion
Large window for implant visualization
Self-tapping 5.5 mm screw
6.- Butrex® | Xtant Medical
The Butrex Anterior Lumbar Buttress Plating System utilizes the patented Resilient Locking Arm Technology to prevent screw back out, while providing repeatable and reliable results. The low profile design, and two point fixation ensures minimal disruption to the local anatomy and high cantilever expulsion resistance. The Butrex System also features an all-in-one drill guide with a plate retaining feature to allow for greater control during plate placement, and to protect adjacent structures.
Features:
Serrated bottom surface for greater grip
Monoblock construction
Low profile/volume plate
7.-Cayman Buttress | Stryker
The Cayman Plate Systems provide a simplified solution to address fractures, tumors, and degenerative conditions in the anterior and lateral spinal column. Distinguished by the innovative tifix Locking Technology, the Cayman Thoracolumbar Plates, Lumbar Plates, Sacral Plates, Buttress Plates, and Minimally Invasive Plates do not require any additional locking mechanism, as each screw head forms an autogenic lock to the plate upon insertion.
Features
Four plate systems to address anterior and lateral spinal fusion procedures
Innovative tifix locking technology
Flexibility to insert screws conically up to 15°
Screws lock to the plate upon insertion
No extra locking mechanism needed
8.-Balboa™ Anterior Buttress Plate | SeaSpine
Our low-profile Balboa™ anterior buttress plate is a user friendly, one plate, and one screw device designed to prevent spacer migration. It features alignment grooves and fixation spikes to enable simple and secure fixation into the anterior spinal column.
Features:
Simple instrumentation
Passive self-locking screw
Alignment grooves to assist in proper placement
9.- Boundary® Buttress Plating System | NVision
The Boundary Anterior Lumbar Buttress Plate is a fixation system used as a buttress of the interbody, to stabilize the allograft or autograft at one level during the development of a spinal fusion. The device consists in a plate shaped to conform to the anatomy of the anterior lumbar and lumbosacral spine (L1-S1)
Features:
Buttress Plating System

The Boundary® Buttress Plating System delivers simplicity in design and ease of use through user-friendly instrumentation.
Plates – 3 sizes & 2 angles

Bone Screws

The system also includes locking and non-locking bone screws available in two diameters and multiple lengths.

Color Coded Bone Screw Diameters

05.50mm locking – Magenta
05.50mm non-locking – Gold
06.00mm locking – Blue
06.00mm non-locking – Green

Bone Screw Lengths
10.-Reliance Buttress Washer System | Reliance Medical
The Reliance Buttress Washer System consists of washers, staples, and screws. The washers are available in six sizes, 15mm, 20mm, and 25mm diameters, as well as 15x20mm, 17x25mm, and 20x30mm. The self-tapping cancellous screws are offered in 4.5mm, 5.5mm, and 6.5mm major diameter and are available in lengths of 15mm, 20mm, 25mm, and 30mm. The components of the Reliance Buttress Washer System are manufactured from titanium and have a smooth anodized finish.
Features:
Buttress implant used to prevent bone graft extrusion
Implant fixates to the anterior portion of the thoracolumbar vertebral body
Buttress system consists of washers, screws, and instruments
Circular Buttress washers are flat, disc shaped devices and are offered in 15mm, 20mm, and 25mm diameters
Narrow Buttress washers are available in 15x20mm and 17x25mm and 20x30mm sizes
Staple Buttress washers are available in 15x20mm and 17x25mm and 20x30mm sizes
Buttress screws are offered in 4.5, 5.5, and 6.5 diameters. Each screw size is available in lengths of 15, 20, 25 and 30mm
Buttress screw involves a double lead thread for ease of insertion