Thoracolumbar Plates Systems provide fixation and stabilization through a lateral and anterior approach.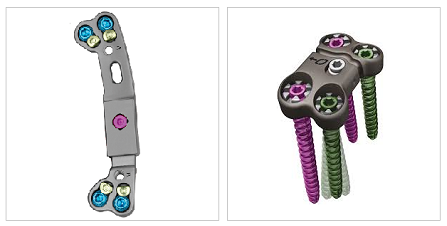 1.- TRUSS® Thoracolumbar Plate | Globus Medical
The TRUSS® Thoracolumbar Plate System has a slim, low profile design to accommodate the entire thoracolumbar spine. Intraoperative compression and optimal screw placement are achieved through an integrated Slider™ mechanism, while fixed or variable screws are used to lag the plate to the bone.
Benefits:
Slim Plate Design: Designed to withstand lumbar loads and fit the thoracic spine.
Integrated Compressibility:Integrated continuous compressibility allows graft load to be maintained.
Minimal Steps for Installation:Reduces surgical complexity and may help decrease operative time.
2.-XLIF Decade™ Plate | Nuvasive
The XLIF Decade(TM) Plate System is designed to provide a simple, yet comprehensive, stabilization solution with four points of fixation for enhanced biomechanical rigidity and load sharing. Designed for the XLIF approach and contoured specifically for the MaXcess(R) IV retractor and CoRoent XL family of implants, this system represents the pinnacle in single-position, lateral, spinal stabilization and fusion.
The plate is a simple, yet comprehensive stabilization solution which was designed with four points of fixation for enhanced rigidity and load sharing properties. Through a reduction in operative steps and improved plate geometry, the product was designed to help facilitate a faster XLIF surgical technique.
The plate is contoured specifically for the MaXcess IV retractor and CoRoent XL family of implants, which results in a seamless technique. Additionally, the product represents the pinnacle in single-approach lateral spinal stabilization and fusion with minimized exposure.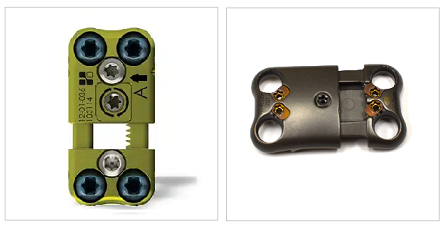 3.- Belvedere Lateral Plating System | Neurostructures
Belvedere is an anterior lateral thoracolumbar bone plating system that features a low-profile design with a unique, adjustable self-locking gear mechanism.
Benefits:
Adjustable Length Plates for Optimal Placement
Adjustable & Fixed Plates Options
Anatomically Contoured Plates to Match the Profile of the Lateral Aspects of the Spine
Low Profile Design & Smooth Contoured Edges to Optimize Patient Comfort
Simple, One-Step Locking Mechanism at Each Level
Pre-Assembled Plates in a Large Assortment of Lengths to Simplify Surgical Procedure
Cortical, Bi-Cortical & Cannulated Screws for Hybrid Constructs
4.-Z-Span Plate System | Zavation
These expandable plates are the latest additions to Zavation's portfolio. The Expandable Anterior Lumbar Plate is a low-profile plate design that provides a stable construct with the ability to expand and lock at the required length. This plate also includes a ledge feature which provides guidance to properly position and expand the plate on the vertebral body. The new Z-Span plates outperformed the predicates in regard to standard ASTM mechanical testing.
Benefits:
Multiple options to support patient anatomy
Low profile design
Robust instrumentation