Many acquisitions have taken place in the Spinal market in the last 10 years. Those companies acquired, have disappeared forever but today as we did in our article "5 Company Logos that you will probably never see again…" , we want to remember another Five Companies:
1.- Lanx
Lanx was founded by a team of experienced medical device professionals and engineers in 2003 to improve the quality of spine care and provide surgeons with innovative products. Lanx developed and marketed a full line of fusion technologies with a focus on minimally invasive and biologics products. Many of their products, were very popular and succesful as the ASPEN Mis Device.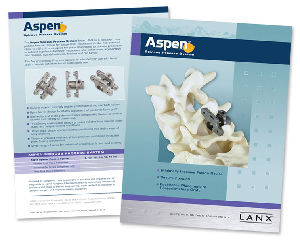 When was Acquired?
In 2013 Biomet, Inc., announced the closing of the previously announced the acquisition of Lanx, Inc., a full service spine company and a leader in minimally invasive techniques and technologies.
2.Ellipse
Founded in 2005, Ellipse was a privately held medical device company located in Aliso Viejo, California. The company was dedicated to the design, development, and commercialization of its evolving proprietary MAGEC® technology platform for spinal and orthopedic applications. The MAGEC® technology platform enabled precisely controlled, non-invasive postoperative adjustment of spinal and orthopedic implants allowing surgeons to better address a range of clinical needs.
They had commercialized two highly differentiated and rapidly adopted product families: the MAGEC−EOS spinal bracing and distraction system for treatment of early onset scoliosis and the PRECICE® limb lengthening system, or PRECICE LLD, for treatment of limb length discrepancy. These products had been used to treat more than 5,000 patients worldwide.
For 2015, Ellipse had revenues of approximately $40 million compared to approximately $26 million in 2014, representing 54% year-over-year growth.  Ellipse's products were marketed and sold in the U.S. and 29 other countries.  Revenues outside of the U.S. represented approximately 45% of Ellipse's revenues in 2014 and approximately 37% of revenues for 2015.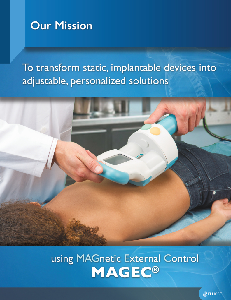 When was Acquired?
In January 2016, NuVasive, Inc. and Ellipse Technologies, Inc. ("Ellipse"), announced that the Boards of Directors of both companies had unanimously approved a definitive agreement under which NuVasive will acquire Ellipse for a $380 million upfront cash payment and a potential $30 million milestone payable in 2017 related to the achievement of specific revenue targets. 
3.- Vertera Spine
Vertera Spine was founded in 2013 by Ken Gall and developed by a group of engineers and researchers at the Georgia Institute of Technology. It was headquartered in Georgia, USA.
Vertera Spine was based on a novel process to create porous PEEK (polyetherether ketone), a high strength biopolymer that allows for better bone attachment and repair following spinal surgery.Prior to Vertera's porous PEEK polymer, porous spinal cages were only available in metals, which do not show up as well in medical imaging. 
Gall and his collaborators at Vertera created porous PEEK by discovering a way to form a highly porous, interconnected network from a solid surface without adding or subtracting material and without negatively impacting the mechanical properties of the material. Once they discovered the method to create the porosity, they systematically altered the size of the pores in the polymer, carefully adjusting them so that the polymer was still highly interconnected and finely tuned to facilitate bony attachment.
According to Gall, bone cells can sense the surrounding three-dimensional network as they grow, allowing the implant to effectively attach to the bone. Post implantation, physicians can monitor the implant using a CT scan, as the polymer doesn't affect the imaging technology.
The porous PEEK technology was first clinically introduced in 2016 when Vertera launched their COHERE implant.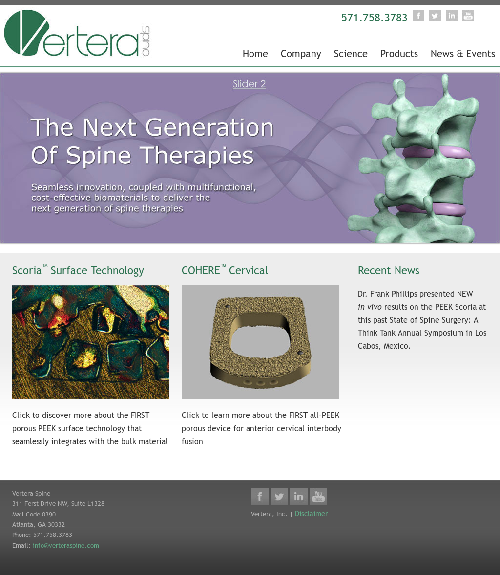 When was Acquired?
In September 2017 NuVasive, announced the acquisition of Vertera Spine, a privately-held medical device company developing and commercializing highly innovative interbody implants for spinal fusion using patented porous polyetheretherketone (PEEK) technology. Terms of the acquisition were not disclosed.
Vertera Spine's existing interbody product lines were added to NuVasive's portfolio for U.S. commercial sale and distribution including:
COHERE® Cervical Interbody Fusion Device: COHERE is FDA-cleared and recently received a new ICD-10 code, issued by the Center of Medicare & Medicaid Services (CMS), effective October 1. COHERE is the only product approved for use with the new code, signifying CMS' recognition of the innovation and potential clinical and tracking benefits of using porous PEEK.
COALESCETM Lumbar Interbody Fusion Device: COALESCE recently received FDA 510(k) clearance for use in anterior, transforaminal, posterior, and lateral lumbar interbody fusion procedures. Additional extensions for the device are planned for TLIF and PLIF procedures in multiple footprint, height, and lordotic angle configurations.
4.-Custom Spine
Custom Spine , Inc. a New Jersey-based company was founded in 2003 by top engineers and industry professionals in partnership with orthopedic and neurological surgeons to develop spinal implants and instrumentation. Mahmoud Abdelgany, CEO, had the vision to create the next generation of surgeon-friendly spinal implants and instruments with superior performance, thereby making Custom Spine an innovative leader in the spinal implant market.
When was Acquired?
In July, 2015 Amendia Inc., a leading provider of innovative spinal technologies, announced that it has acquired the business of Custom Spine, Inc. The Custom Spine transaction would further support Amendia's focus on providing the spine market with a comprehensive product offering in a vertically-integrated business model, designed to maximize efficiencies, cost savings, customer service, and creativity.
5.- LDR
Founded in France in 2000, LDR was a global medical device company focused on designing and commercializing novel and proprietary surgical technologies for the treatment of patients suffering from spine disorders. LDR's primary products were the Mobi-C® cervical disc replacement device and MIVo™ portfolio of products which included a range of devices to support lumbar and cervical fusion procedures. The Mobi-C® and MIVo™ platforms were designed to enable products that are less invasive, provide greater intra-operative flexibility, offer simplified surgical techniques and promote improved clinical outcomes for patients as compared to existing alternatives. In August 2013, LDR received approval from the U.S. Food and Drug Administration (FDA) for the Mobi-C® cervical disc replacement device.
When was Acquired?
In June, 2016 Zimmer Biomet Holdings, Inc. and LDR Holding Corporation announced that both Boards of Directors had approved a definitive agreement under which Zimmer Biomet would commence a tender offer to acquire all of the outstanding shares of LDR for $37.00 per share in cash, which implied a transaction value of approximately $1.0 billion.  Zimmer Biomet acquired LDR to enhance innovation and achieve growth of the Spine Business.