Spine fractures sometimes may require additional spinal structural support with an implant such as a Mesh, a peek cage or an expandable corpectomy device. Another indication or use for these Devices is in the treatment of cancer patients. If the cancer metastasizes or spreads in the spine, the surgeon may opt to remove the affected vertebral bodies and replace them with an Expandable Corpectomy Device.
For many years, the Gold Standard was the MESH but recently the technology has produced innovative and state-of-the-art devices such as the following 45 systems included in our CP Section.
The Corpectomy expandable market is dominated by Ulrich Medical (with a product strategy focused on leading the VBR market), Globus Medical and by other relevant companies as Medtronic, Depuy Synthes, Stryker (including K2M) and Nuvasive.
Today, we have selected the following 6 devices:

1.-FORTIFY VA | Globus Medical
Globus Medical is the industry leader in expandable technology with over 20 expandable implant options backed by 15 years of engineering, testing, and clinical experience. The company's Expandable Technology portfolio includes in addition to the FORTIFY VA, the following devices:
FORTIFY® I is an integrated vertebral body replacement device that provides anterior column support and is designed to prevent implant dislodgement. The spacer has integrated titanium plates and screws for additional stabilization between the vertebral bodies and the spacer.
FORTIFY® streamlines vertebral body replacement through one of several approaches and provides a range of implants designed to restore height, alignment, and stability. One step insertion-expansion with automatic locking simplifies the technique. PEEK or titanium materials, maximized expansion ranges, and modular endplates allow surgeons to customize each implant for their patient.
XPand® is an expandable corpectomy spacer available in PEEK or titanium and a wide variety of footprints, heights and lordotic/kyphotic angles to match varying patient anatomy. Insertion and continuous adjustable expansion is achieved with one specially designed instrument aimed to simplify the surgical technique.
FORTIFY® Variable Angle:
Is a self-aligning expandable corpectomy spacer that optimizes anatomical fit through an anterior cervical approach or one of several thoracolumbar approaches.
Self-Aligning Polyaxial Endplate: Designed to optimize load distribution between the implant and vertebrae.
Expandable Core: Allows for continuous expansion to the desired height.
Automatic Locking: Provides implant height stability without an additional step.
2.- XRL® | Depuy Synthes
Depuy Synthes includes in their portfolio the ECD – Expandable Corpectomy Device and the XRL.
The XRL® Vertebral Body Replacement Device provides surgeons the ability to expand the device in situ to reconstruct the anterior column, restore height, and correct the sagittal curvature of the thoracolumbar spine.
Features:
Integrated and modular construction
360º implantation
Tactile feedback during expansion
Most implant options to accomodate a wide range of anatomies
PEEK implant: Ability to assess tumor recurrence and fusion progress
Modular endplates: Accommodates multiple approach options
Integrated options: Minimize OR time by eliminating assembly step
6 endplate footprints that range from -10° to 20° :Fully customizable implant
Construct heights range from 22 mm to 145 mm :Fully customizable implant
All-In-One spreader: Ability to insert, expand and lock the implant in seconds; Over expansion protection
Quick repositioning:Repositioning can be done without impacting on a fully expanded implant
Self-locking implant: Reduces OR time by removing locking step; Eliminates the need for additional instrumentation
3.- T2 STRATOSPHERE | Medtronic
Medtronic includes in their portfolio the T2 ALTITUDE™ Expandable Corpectomy Device and the T2 Stratosphere expandable corpectomy system.
Features:
Self-Adjusting Multi-Axial End Cap: Up to 38º of total angulation with optional modular end caps
Distributed Surface:Contact prevents point loading and reduces the risk of subsidence
Continuous Endplate Conformity:Surface to surface contact maintained during posterior correction
Low Profile for visualization of anatomy
ONE Instrument Multi-Functional, All-In-One and access around the spinal cord and nerve roots

4.- Solidity | Ulrich
Ulrich is the unquestionable global pioneer in the development and commercialization of VBR technologies. The company enterprise surpassed the 100,000 implant milestone in 2019 in total vertebral body replacement (VBR) device implantations. Their current VBR product portfolio for the company includes six different product lines in the United States spine market: Small VBR™, Omni VBR™, ADDplus™, obelisc®, obelisc LE® and Solidity™.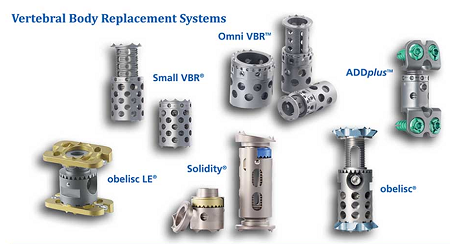 The Solidity Vertebral Body Replacement:
This device is used for the surgical reconstruction of defects of the thoracic and lumbar spine (T1-L5). It consists of a center piece with 625 unique angulation plate configurations available in one optimized set. With only a few simple-to-use instruments, a wide range of implants can be used to match unique patient anatomy and restore height and sagittal balance for spinal correction.
Features:
Expandable vertebral body replacement system
Used for the surgical reconstruction of the thoracolumbar spine after vertebrectomy (T1 – L5)
Gear driven stepless expansion in situ
Interchangeable angulation plates® offer 625 unique implant configurations
Versatile press-fit assembly allows for 360° orientation to accommodate any surgical approach
Ø 13mm centerpiece; 13 – 72mm height range
Angulation plate® footprints: Ø 13mm, Ø 16mm, Ø 16x13mm, Ø 19x16mm
Lordosis: 0°, 5°, 10° (up to 20° by combining two 10° plates)
Material: titanium alloy
5.-CAPRI® | STRYKER
Stryker, with the acquisition of K2M, has incorporated 4 devices including the differentiated Capri Cervical 3D Expandable. Now, they include in their portfolio the following 6 expandible corpectomy devices: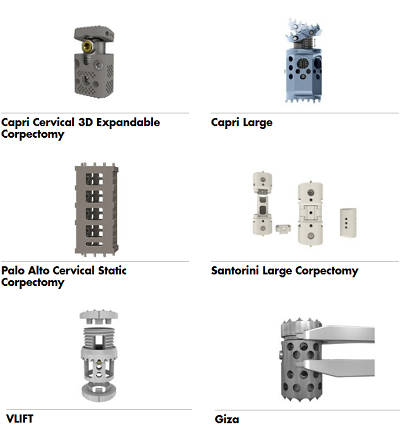 The CAPRI® Large Expandable Corpectomy Cage System provides an innovative solution for stabilization of the spine in cases of vertebral body resections resulting from trauma or tumor. Offered in various footprint options, this versatile system allows for in-situ height expansion and endplate angulation.
Features:
Accomodates Multiple Surgical Approaches
In-situ Lordosis/Kyphosis Angulation
In-situ Height Adjustment
Interchangeable Footprint Options
Manufactured from Titanium
6.- X-CORE 2 | NUVASIVE
Expanding on the biomechanical and design principles of X-CORE,® the X-CORE 2 Expandable VBR is designed to be the latest and most advanced all-approach expandable VBR on the market. The X-CORE 2 Expandable VBR provides expanded versatility that enables surgeons to utilize X-CORE technology – not only via the XLIF ® approach, but also through multiple approaches – and offers further customizability of the implant through increased sizing options. All of this is achievable through unique implant updates, and via streamlined, minimally disruptive instrumentation.
Benefits:
Biomechanical Strength

XLIF Endcaps – Increased Resistance to Subsidence
Increased Graft Aperture
Enhanced Anti-Migration
Versatile
All-Approach Solution
Customizable

Three Core Diameters
Maximized Height Span
75+ Endcap Options
Minimally Disruptive

Zero Profile Inserter/Expander
Seamlessly Integrated System