The global Cervical Interbody Fusion Cages market is growing. According to reportsweb.com, it will reach 1120 million US$ by the end of 2025, growing at a CAGR of 4.0% during 2018-2025.In recent years, the trend in the cervical spine market has been the use of stand-alone cages as it offers numerous advantages. On the other hand, the development of 3d Print techniques have made it possible to design porous titanium cages that increase the fusion rates.
Why the cervical stand-alone cages market grows?
Simple procedure: Traditionally, in order to hold an IBD in place, the surgeon had to use a supplemental fixation plate to help. These newstand-alone design by utilizing two screws to help secure the IBD in its functional position, eliminates the need for a supplemental fixation plate making the procedure more easy and fast to implement.
Second, because  the US spinal implant market is a mature market with its largest product segments — traditional anterior cervical plating and posterior thoracolumbar pedicle screw fixation — featuring largely commoditized products and a lack of product innovation".Steady pricing decreases are expected in most segments of the spinal implant market through 2024.Fortunately, shifts in procedure and product mix to premium-priced plate/cage hybrid devices with integrated screw fixation, (stand-alone cages) will help offset declining unit prices.
According to many surgeons,their results demonstrate that stand-alone cages have fewer complications compared to anterior plating, with a lower trend of incidence of postoperative dysphagia. Stand-alone cages may offer the advantage of sending patients home ambulatory after ACDF surgery.
What does 3D Printed Technology Offer?
Thanks to 3D printing, the implants are more porous (even 80%!) and assist with intra and post-operative visualization. The 3D printed structure has a modulus of elasticity, or change in stiffness, similar to bone that aims to help facilitate bone fusion.
6 Stand Alone ACIF 3D Printed Titanium Cages to know…!
Therefore, the ideal cervical implant would probably be a stand-alone cage made of Titanium with 3D technology. Are such cages in the market? Yes! Today we present the following 6 ACIF implants that we consider more differentiated:

1.- STALIF C FLX | CENTINEL SPINE
STALIF C FLX is a 3D-printed porous titanium cervical interbody with 2-level clearance! STALIF C FLX is built upon the simple, elegant design and proven success of the STALIF foundation with the Unique 3D-Printed Porous Titanium FLX Solution that offers the following advantages: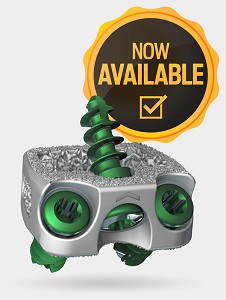 Flexible
FLX implants include a solid exoskeleton for added strength, along with a proprietary lattice scaffold designed to have a stiffness similar to bone. Reduced device stiffness is known to minimize stress-shielding and enhance the fusion process.
Lucent
FLX implants include porous radiolucent sections with optimized density to reduce imaging artifacts—enhancing intra-operative visualization & post-operative fusion assessment compared to solid titanium implants.
MatriX
FLX implants include a FUSE-THRU™ osteoconductive trabecular scaffold, bioengineered to allow the potential for bony on-growth and in-growth throughout the implant. This unique porous structure contains micro, macro, and nano structural characteristics designed to promote the fusion healing process by influencing cellular events related to the production of new bone.
Which are the Main STALIF C FLX Advantages?
No Profile®; No Supplemental Fixation

The integrated cage and screw system of STALIF C FLX is cleared for use without supplemental fixation, while the "No Profile" design allows it to nest fully within the confines of the vertebral body—leaving the anatomy unchanged external to the interbody.

The Lag Effect

Compressive lag fixation ensures biomechanical stability and provides secure graft-endplate contact. Lag screws reduce the vertebral bodies onto the cage creating graft / endplate surface compression to provide the best opportunity for fusion.

Biomechanical Equivalence

The STALIF C FLX device is engineered to achieve equivalent biomechanical performance to anterior plate & cage technologies.1 Stein MI, Nayak AN, Gaskins RB, Cabezas AF, Santoni BG, Castellvi AE; Biomechanics of an Integrated Interbody device versus ACDF anterior locking plate in a single-level cervical spine fusion construct. Spine J., January 2014; 14(1):128-136.
Which are the Main STALIF C FLX Features?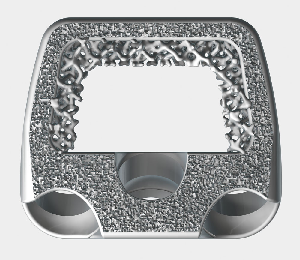 Anti Back-Out® Screws

STALIF C FLX screws provide an added layer of security with an Anti Back-Out® (ABO®) titanium split-ring which first compresses and then deploys during insertion.

Large Graft Area

The implant is designed with a large, open, concave graft containment cavity to maximize the volume of bone graft (allograft and/or autograft) material to better promote fusion.
Multiple Heights & Footprints

The STALIF C FLX Interbody system consists of varying heights and footprint options to accommodate individual pathology and anatomical conditions.
2.- HEDRON IC™ | GLOBUS MEDICAL
HEDRON IC™ is a 3D printed ACDF spacer that can be used as an interbody spacer itself or combined with the COALITION AGX Plate and screws as a stand-alone plate-spacer. HEDRON IC™ features a biomimetic porous scaffolding designed to promote bone formation onto and through the implant.
Which are the main Advantages?
The Face of Fusion

An ovine interbody study demonstrated significantly more bone ingrowth within HEDRON™ implants at 6 weeks post-op compared to PEEK and solid titanium implants.** Data on file

Intraoperative Integration

The HEDRON IC™ spacer and COALITION AGX® plate may be intraoperatively assembled for a low-profile approach requiring minimal retraction.

Natural Anatomical Profile

The HEDRON IC™ Plate-Spacer is designed to preserve the natural anatomical profile of the cervical spine.
3.-SPIRA®– C Integrated | CAMBER SPINE
Camber Spine, announced last week the FDA clearance and nationwide launch for The SPIRA®– C Integrated Interbody system, a stand-alone integrated fixation system,
The SPIRA®-C Integrated incorporates Camber Spine's proprietary technology Surface by Design®, a proven osteopromotive surface, according to a recent study conducted by HSS, and its patented arch design for redistribution of load to maximize end plate contact and promote full arthrodesis. 
What does "SURFACE BY DESIGN®" mean?
Titanium Open Architecture cervical interbody with Surface By Design® technology to optimize bone growth.
Engineered to:

Decrease Subsidence
Maximize Graft Volume

3D printed Titanium Alloy TI-6AL-4V (Grade 23) per ASTM F3001-14
Offered in three different footprint sizes to accommodate patient anatomy
Graft volume ranges from .3 cc in the smallest size up to 1.2 cc's in the largest size.

4.- MATRIXX® Stand Alone Cervical System | NEXXT Spine
NEXXT MATRIXX Stand Alone Cervical System is a stand-alone anterior cervical interbody fusion system intended for use as an adjunct to fusion at one or two contiguous levels (C2-T1) in skeletally mature patients for the treatment of degenerative disc disease (defined as discogenic neck pain with degeneration of the disc confirmed by history and radiographic studies
Designed to be used as an adjunct to fusion at one or two contiguous levels (C2-T1) in skeletally mature patients, the Stand-Alone Cervical System will help patients that suffer from the treatment of degenerative disc disease. It should be used with the bone screw fixation provided and requires no additional fixation.
Benefits:
Optimize bone ingrowth
Reduce costs
Enable patient-specific solutions.
5.-TRUSS System-Stand Alone | 4WEB MEDICAL
The CSTS-SA product is designed to allow fixation screws to be placed through the truss implant and into the adjacent vertebral bodies creating a zero-profile stand-alone construct that removes the need for traditional plate and screw fixation. Additionally, the device features a single-step locking mechanism that provides surgeon users confidence in the performance of the stand-alone construct. The Cervical Stand-Alone product line will be available in multiple footprints, lordotic angles, heights and will be delivered in sterile packaging for hospital efficiency and patient safety
4WEB Medical's proprietary Truss Implant Technology™ utilizes the concept of mechanobiology to simulate cellular activity at the surgical site. The manufacturing process used to produce the implant's Advanced Structural Design creates a hierarchical surface roughness with features that span from the macro to nano scale. In-vitro testing has shown that stem cells attached to 4WEB's titanium implant surface exhibited increased gene expression of certain osteogenic markers when compared to smooth titanium and PEEK.
6.-TESERA SC Stand-alone Cervical | KYOCERA
The Tesera® SC Stand-Alone Cervical Interbody Fusion System combines our most advanced material science and revolutionary manufacturing process into a powerful stand-alone cervical interbody fusion system.
Using additive manufacturing, we have created an ideal trabecular structure for bone in-growth, providing excellent long-term fixation. Three screws and an innovative locking system provide immediate fixation and confidence.