The Genesys Spine Binary® Lumbar Plate System provides an innovative solution to address instability of the spine from T1 to S1 caused by fractures, tumors, DDD, scoliosis, kyphosis, lordosis, spinal stenosis, or a failed previous spine surgery.
Consists of Titanium plates with integrated locks and Titanium screws.
One-Level (Flat) Plates, Intradiscal Plates, Sacral Plates, and Berm Sacral Plate options are available allowing for more configurable, patient specific fixation.
Patented, award-winning Helios® Locking Mechanism prevents counter rotation and backout with audible, tactile, and visual feedback.
Screws come in 2 diameters, 2 configurations (fixed and variable), with multiple lengths.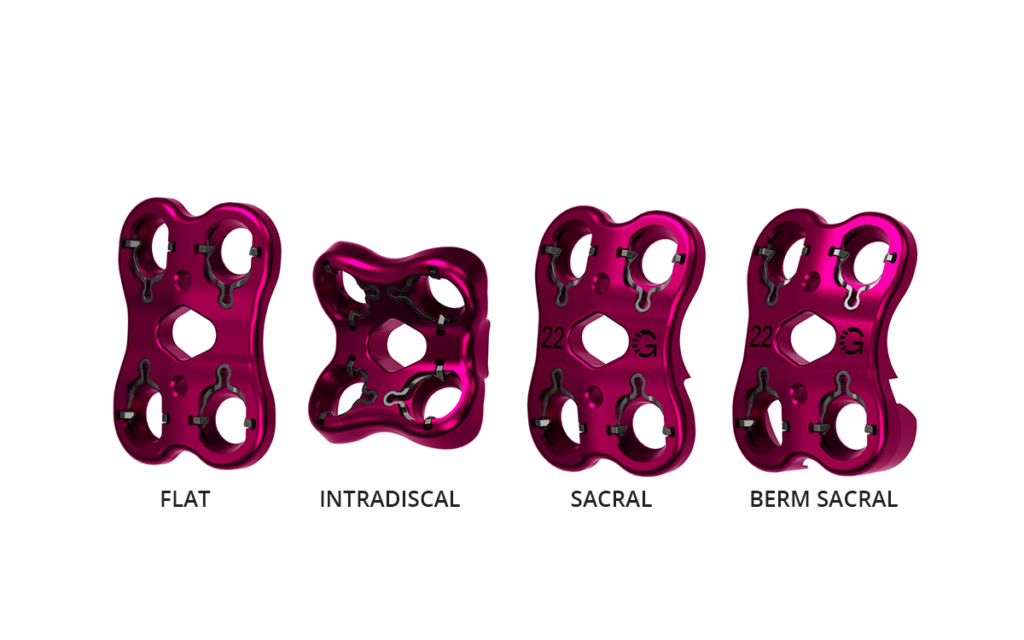 Features and Benefits
The Lumbar Plates and Genesys interbodies can be loaded on the same Inserter for placement together.
Simultaneous insertion of the plate and interbody can reduce the amount of steps, thus reducing OR time.
Inserter can be used to deliver interbody and plate for lateral, anterolateral, or anterior surgical approaches.
The same instruments are used for all three surgical approaches.
Fixation Pins are available upon request.
Zou is a low profile, anterior, intradiscal plate designed to reduce the risk of vascular vessel disruption.
VIDEO: Zou Anterior Lumbar Plate System
Features and Benefits
Simple and effective anti-backout mechanism with visual and tactile feedback lock confirmation
Variable screws provide a 39° range of sagittal angulation
Cortical rim screw fixation
Plate Sizes: 15mm – 25mm
Screw Lengths: 21mm, 24mm, 28mm, 32mm, & 36mm
Screw Diameter: 5.5mm
The CURE Anterior and Anterolateral Lumbar Plating System is an easy to use, plate and screw system designed by a group of tenured and experienced spine surgeons. It is available for various regions of the lumbar spine, including sacral fixation and lateral stabilization following interbody fusion.
Low profile system with smooth edges to reduce vascular tissue irritation
Patent pending, tactile locking mechanism for preventing screw back out
One screwdriver for bone screws and the locking cam to reduce instruments and steps in the procedure
Single tray that includes Talos®-A (HA) IBF instruments to streamline the number of sets in the OR
Pre-lordosed implants for lumbar and sacral anatomy
Two hole plate for lateral lumbar fixation
Fixed and Variable Screws in both self drilling and self tapping
Portion of proceeds are donated to CURE International
The PRESIDIO Anterior Lumbar Fixation System is a plate system designed to eliminate the need for posterior stabilization with anterior lumbar interbody fusions. The low profile plate design provides a rigidly stable construct without disturbing the surrounding vasculature. The PRESIDIO plate incorporates a graft window to visualize the placement of the anterior lumbar interbody.
Plates ranging in length to accommodate 1 level procedures
Low profile plate
Bones screws available with a fast turn thread design in a variable angle configuration
Plate features prevent locking plate misalignment
The AccuFit® ALIF Plate System is a lumbosacral fixation system offering two low profile plate designs to facilitate anatomical fit and protect surrounding vascular structures. The AccuFit Plate features an intuitive one step locking system that provides visual locking confirmation and a large graft window for extensive visibility to the endplates, as well as the interbody spacer. Fixed and variable screws in 5.0 and 5.5mm sizes are offered to accommodate surgical preferences.
System features:
Low Profile Design (3.8mm) reduces tissue disruption
Pre-Lordosed L5-S1 Plate contours to sacral anatomy to reduce vascular complications
Intuitive Single Step Locking Mechanism facilitates secure placement
Fixed and Variable Screws accommodate surgeon preference
CITADEL® is an anterior lumbar fusion system with a full range of implants and reliable, user-friendly instruments designed to ease the procedure. A low profile design and integrated blocking set screw help to ensure that the plate maintains a smooth surface to reduce interference with surrounding vessels.
Low Profile:The ability to lag to bone and an integrated blocking set screw help to maintain the plate's low profile to reduce anatomic interference.
Sacral Configuration:Uniquely designed plates to match sacral anatomy.
Streamlined Instruments:Facilitates safe, straightforward implantation.
7.-LITe Plate System | Stryker
Diverse plate family offering a unique dual-locking mechanism, a high degree of screw angulation, and simplified instrumentation.
These plates feature a spring-loaded bar that automatically locks over the screw heads once they are inserted. Rotation of a secondary blocker locks the bar in place for added security with visual and tactile confirmation. The anterior family features lumbar, sacral and buttress designs, while the lateral family features both 2-hole and 4-hole designs.
Slim profile
Unique WingSpring™ locking mechanism
High degree of screw angulation
Simplified instrumentation
Experience the perfect ending to a lumbar fusion procedure with the Trinica Anterior Lumbar Plate (ALP) System. The bone deficit-filling design is available in multiple plate configurations and allows for enhanced bone-plate interface, which can increase stabilization and reduce effective profile. To further meet anatomical variations, the Trinica ALP System plates accept both fixed and variable screws. Complete the procedure with one twist of the wrist – lock the plate with the innovative Secure-Twist® Locking Mechanism anti-migration system – the perfect ending.
Features:
All-through-one guides accommodate drilling, tapping and screw insertion, saving time and reducing the number of procedural steps
Plates are pre-contoured and come in a number of different sizes, accommodating variations in anatomy and minimizing the need for additional contouring
Plates accept both fixed and variable angle screws, allowing for more configurable, patient specific fixation
The Trinica ALP System's Secure-Twist Anti-Migration System saves time by locking multiple screws simultaneously