Modular Spine Systems: Do they really have advantages? Spine systems with modular head screws have had many followers as well as many detractors. Most of those who criticize these systems, distrust the fixation of the heads and especially when they are under significant stress. But it is true that today the reliability of most of the modular systems on the market is great and on the other hand, the advantages that they provide are important such as: Modular Spinal Systems increase options for distraction, optimize visualization, allow a better decortication, and can be implanted via a conventional open approach, midline, or minimally invasive. Modularity also, eliminates tulip interference throughout the procedure.
For these reasons many companies have already launched the option of modular screws as Globus (Creo AMP), or Nuvasive (Reline MAS Midline).
But today we want to highlight the following 8 relevant modular systems:

1.-TiLock Modular Spinal System | Genesys Spine
The Genesys Spine TiLock® Modular Spinal System uniquely addresses the challenges of posterior fixation by providing surgeons with the flexibility to secure difficult operative levels.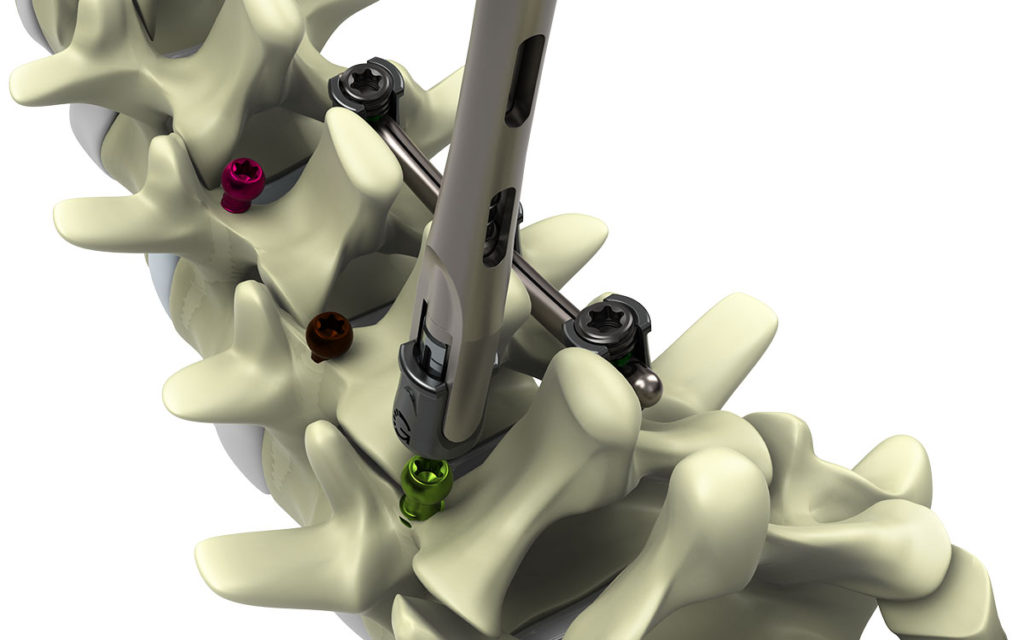 Benefits:
The TiLock® Modular Spinal System can be implanted via a conventional open approach, midline, or minimally invasive.
Increased options for distraction, greater visibility, and more thorough decortication may be achieved by allowing the surgeon to first place a low profile screw.
The reduced tulip head profile allows for efficient screw placement with minimal bony removal helping to mitigate the risk of adjacent facet encroachment.
The system is designed to minimize the retraction and disruption of surrounding tissue, and maximize fixation in denser cortical bone.
Proprietary Opposing Angle Interface (OAI) Set Cap. The lock system reduces rod slippage as well as incidences of set cap back out.
2.-Centerline Modular | LifeSpine
Centerline Modular Spinal Fixation System offers the next degree of modularity and surgical flexibility to Life Spine's already expansive MIDLINE portfolio. With cannulated and non-cannulated screws featuring Life Spine's cortical/cancellous thread geometry, Centerline Modular is designed to provide superior pull-out strength through an enhanced cortical/cancellous interface. Minimal-profile, polyaxial tulips are offered in both standard and reduction geometries. Accompanied by a robust portfolio of supporting instrumentation, Centerline Modular provides a full procedural solution for posterior thoracolumbar fixation.
Benefits:
Modularity eliminates tulip interference throughout procedure
Low-profile tulip geometry supports patients of all sizes
In-situ distraction supports easy access to the tightest of disc spaces
Standard and Hex-End CoCr Rod Offering
3.-Taurus™ Modular Thoracolumbar Pedicle System | CTL Amedica
The Taurus™ Modular Thoracolumbar Pedicle System allows for true intraoperative flexibility. Headbodys can be connected in-situ or prior to insertion to allow direct screw to screw distraction for improved visualization. The patented set screw design eliminates head splay and cross threading to better assist set screw seating and rod reduction. The combination of intra-operative flexibility and system strength provides powerful benefits to both patients and surgeons
Modularity: Provides intra-operative flexibility Helical Flange: Eliminates cross threading and head splay Tension Head: Holds its position at any angle
4.-F1 MPS™ | DeGen Medical
The F1 MPS Pedicle Screw System provides a versatile, modular lumbar pedicle screw system. Treats complex spinal diseases with intra-operative versatility of implant options for efficient graft placements, coupled with intuitively-designed instrumentation for ease of use.
Features:
Better preparation of Pedicle Bed
Cobalt-Chrome Head
Titanium or Cobalt-Chrome Rod options available
Double Lead Thread
Pre-Cut Curved Rods

5.-Reform® Modular Pedicle Screw System | Precision Spine
The Reform® Modular Pedicle Screw System provides surgeons increased flexibility, versatility and visibility to meet the varying requirements of degenerative and trauma procedures. Reform features a cobalt chrome tulip, a titanium triple lead proximally tapered thread to deliver strength, stability and efficiency to all thoracolumbar constructs. Modular tulips are available in standard and reduction configurations. Testing shows that the Reform Modular intraoperatively assembled construct has a pull off strength as strong as a Reform preassembled screw providing optimal security.
System features:
Cobalt Chrome Tulip and Titanium Triple Lead, Proximally Tapered Thread deliver strength, stability and efficiency to all thoracolumbar constructs
Low Profile Tulip Inserter provides a stable and secure interface and is available in straight and angled configurations. An audible click ensures that the tulip is securely assembled
Semi-aggressive Bone Planar approximates the outer diameter of the tulip to allow for bone decortication to promote fusion and proper seating of the tulip
Low Profile Screw Driver optimizes maneuverability, control, and dependability
6.-The Apelo Pedicle Screw System | Atlas Spine
The Apelo Pedicle Screw System is a novel modular screw and connector system highlighted by interchangeable poly-axial heads for intra-operative versatility and advanced design features engineered to maximize screw purchase, construct integrity, and simplicity of final assembly.
Modular insertion allows for unobstructed graft site preparation and graft placement.
Screw features tapered minor diameter and tapered thread crest for bone compaction and increased purchase.
Screw head flange provides a positive depth stop and increased resistance to lateral loads.
Unique pilot tip gives surgeons a secure, positive initial location in the pilot hole when prying against soft tissue to gain the correct screw trajectory.
Modular heads can easily be changed without disturbing the screw purchase for increased intraoperative versatility.
The integrated outer band of the locking collar is designed to prevent head splay and cross threading.
7.-Firebird NXG | Orthofix ​​​
As one of the first companies to develop a modular pedicle screw system, Firebird NXG represents Orthofix's four generations of modular pedicle screw system experience. The system is designed for comprehensive posterior thoracolumbar surgical cases including degenerative disc disease. The next generation Firebird platform refines the modular screws, provides a lower profile body and simplifies instrumentation thus improving upon this already versatile system.
Features:
Instruments:
2 instrument cases and 1 implant case to optimize volumes
​in sterile processing
Unique tubular rod reducer offers up to 28mm of reduction
Modular and Multi-Axial screw drivers to accommodate modular and pre-a​ssmbled screws​
Implants Modular Bodies:
Slimmed implant waist by 20% allowing for improved in
​situ visualization​​
Reduced height above the rod by 6% creating a lower profile similar to industry leading pedicle screw systems​
Decreased run on rod w​ithout compromising rod security
Reduction body allows for 22mm of reduction​Allows 50° con​e of angulation once attached to modular screw ​
Implants Titanium Screws:​
Modular design for maximized visualization during screw placement
Non-cannulated and cannulated options support a variety of surgical approaches
Threads extend to the tip for controlled insertion and tactile feedback
Sharper tip angle, dual lead thread form to facilitate smooth screw insertion
8.- DIPLOMAT | Signus Spine
The DIPLOMAT system, offers a modular extension of the DIPLOMAT pedicle screw system, allowing the full functionality of the pedicle screw system to be extended by minimally-invasive access instrumentation, thereby achieving optimized tissue protection.
Greater flexibility and efficiency for all treatments – without compromise
The demands on a pedicle screw system are high — regardless of the indication. Both simple and complex treatments of the spinal column require the highest degree of security and stability to ensure optimal patient care, as well as an ergonomic and reliable instrument set.
Product-specific advantages:
Intraoperative selection of tulip

More flexibility for the best possible treatment

Self-tapping double thread of the screw with increased thread pitch

Strong purchase in the bone increases resistance to pull-out forces
Faster insertion (4.5mm per rotation)

Screws are cannulated and fenestrated

Optimum screw guidance during OPEN procedures

One system instrument set for all indications

Significant reduction in time spent on logistics and reprocessing