A few days ago, I found an article in seekingalpha.com related to the evolution and future of Alphatec Spine. In its analysis aimed at potential investors in this Company, different influential factors in its progress were discussed. Among them, they commented on the lack of technological innovation and questioned their products differentiation by writting that ATEC´s portfolio is mostly me-too, just copies of the competition.
From our point of view those comments are not fair and we would like to defend their product introductions:
The IdentiTi platform : From our point of view they are not revolutionary cages but necessary and aligned with the current market trends. If we analyze the 10 main companies in the market (among which is ATEC), we see that 5 companies already have 3D Porous cages (See Chart) but there are 4 companies as Globus Medical ,RTI surgical, Seaspine or Orthofix that they do not have Porous Cages yet. On the other hand, both Depuy (acquisition of EIT in 2019) and Nuvasive (launch in 2019) launched their platforms very recently. It is clear that the trend is to have these cages in the portfolio and Alphatec has done right.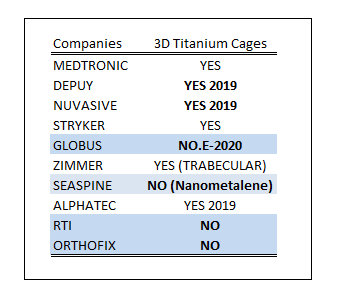 The InVictus Minimally Invasive: The related article refers to InVictus MIS SingleStep as a system just designed to simplify procedures. They say "It is a small evolutionary, not revolutionary, development". But is not MIS about simplicity and safety? ATEC offers an easier system with safer steps with the aim of the SafeOp Neuromonitoring System.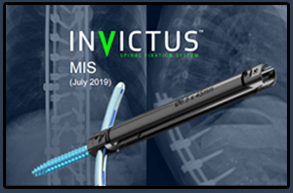 ATEC's AMP™ Lateral Anti-Migration Plate is a modular lateral plate with a zero-step screw locking feature. As it is mentioned in the article, it is similar to the Stryker's plating system but from our opinion, it is a good product that completes the ATEC´s product gap related to the Lateral Fusion procedure.
ATEC's Trestle Luxe II Cervical Plate enhances the features of the former plate Trestle de Luxe I. Nice plate with proved benefits.
Conclusion
Alphatec Spine with more than $100 million revenue in 2019 and with a market share of 1% , is one of the Top 10 companies in the world. In 2019 they had a double digit growth (+23%) and launched 12 products.
Their portfolio has been for many years short but with good products such as the MIS Illico, the Zodiac system or the Novel Cages.
In the last couple of years, there were many important gaps in their product offering. We think that they have made an important effort to upgrade their portfolio and be at the same level as other important companies.
What is your opinion? Do you think that most of the spinal products that are launched today lacks innovation? What do you think about ATEC new portfolio?
Disclosure: We expresses our own opinions. We are not receiving any compensation from Alphatec Spine. We have no business relationship and no stock from ATEC.