In today's market, there are numerous lateral systems and most of them are of very high quality. It is extremely difficult to choose the best three, but for this we have taken into account the following criteria:
Retractor: The implant is important, but a good retractor is absolutely key. Therefore, all those systems that do not have a separator or it is not the appropriate one, we have eliminated.
Expandable Technology: The ease of insertion as well as the possibility of managing lordosis.
3D Technology, design and Titanium Porosity.
Number 1.- ELSA | Globus Medical
Our Opinion: ELSA is without a doubt the best lateral system on the market. Made of titanium, with great capacity for graft delivery, with incredible expandable technology, with an option for anterior to psoas and with a retractor at the highest level. Today, from our point of view, unbeatable!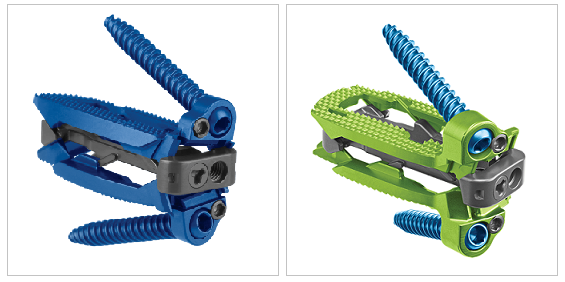 ELSA® is an expandable lumbar interbody spacer with integrated fixation designed to maximize segmental lordosis while minimizing disruption to patient anatomy.
Why ELSA is our Number 1?
1.- It Provides Sagittal Alignment: Lordotic adjustability from 5° to 20° or 15° to 30° allows for a small starting height and a precise anatomic fit.
2.- Minimal Disruption: Integrated fixation can be delivered through a smaller access window compared to traditional lateral fixation, while screw eyelets maintain ideal placement during controlled implant expansion.
3.-In situ Graft Delivery: A large central graft window coupled with the ability to introduce additional bone graft in situ provides an optimal fusion environment.
4.-Two Implant Options: ELSA® and ELSA®-ATP (anterior-to-psoas). It allows for a traditional lateral footprint while avoiding the need to dissect through the psoas muscle. Angled anterolateral instruments help address the challenges associated with a high iliac crest at L4-L5.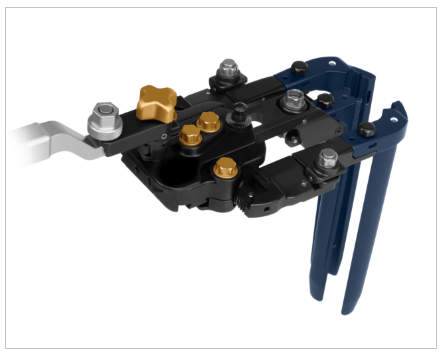 5.-Great RETRACTOR: MARS™ 3VL: In the lateral approach the retractor system is extremely important. MARS 3VL has the following advantages:

Allows for posterior blade retraction as well as anterior adjustment of the cephalad/caudal blades from one docking point.
Tailored to accommodate various surgeon preferences, the retractor frame accommodates either a 13mm inner diameter (ID) three-bladed construct or a 22mm ID two-bladed split tube construct.
Radiolucent blades securely attach to the stainless steel frame providing the perfect combination of strength and visibility under fluoroscopy.
Number 2.- MODULUS | NUVASIVE
Our Opinion: Nuvasive was the first with the XLIF. Its system and technique has been consolidated for more than 15 years. It has a magnificent retractor as well as a Neuromonitoring system perfected over many years. Regarding the implant, although it is porous titanium with its multiple advantages, it does not reach the advantages that ELSA provides with its expansion and screw fixation system in situ.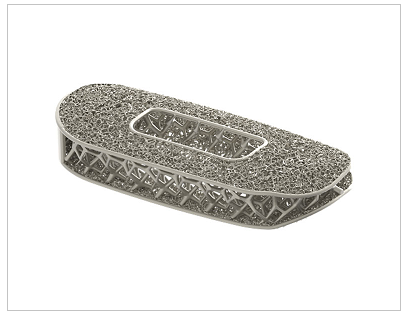 What is Modulus? Modulus integrates endplate porosity with an optimized body lattice structure, providing a fully porous architecture and favorable environment for bone in-growth while enhancing visualization compared to traditional Ti interbody implants in a variety of imaging modalities.Unlike any other 3D printed titanium implant on the market, Modulus is designed through a proprietary optimization algorithm that balances strength and radiolucency.
Why Modulus is our Number 2?
1.-XLIF is the only lateral approach procedure proven by over 15 years of clinical evidence: Nuvasive's proprietary XLIF procedure is a lateral approach spine procedure supported by 15 years of clinical evidence and hundreds of peer-reviewed publications.
2.-Porous surface designed to participate in fusion: Porosity elicits a significantly stronger osteogenic response at the cellular level compared to roughened or nano-roughened surfaces2-5 on their own.Fully porous endplate design promotes new bone on-growth and in-growth,1 demonstrating the greatest integration strength by 12 weeks compared to alternative implant materials.1Microporous endplate architecture maximizes bone-to-implant contact, increasing expulsion resistance.6The increased surface area and wicking capability of the porous surface improves blood to implant contact compared with traditional interbody implants.
3.-Optimized lattice structure:Implants are designed with an optimized balance between strength and stiffness so as to minimize stress shielding7 and subsidence.8Modulus implants implement a proprietary design optimization methodology, generating a unique internal architecture for a desired effective modulus that is similar to bone.
4.-Enhanced imaging characteristics for visualization of fusion:Created with imaging clarity in mind, the proprietary implant design and manufacturing process allow enhanced visualization on a variety of imaging modalities.
5.-Neuromonitoring:
The NVM5 platform is a comprehensive set of intraoperative technologies specifically designed for spine surgery, including multimodality monitoring of the spinal cord and nerves.Capabilities of the NVM5 platform in spine surgery include:
Nerve avoidance and navigation
Nerve monitoring and instrument navigation
Spinal cord monitoring
Peripheral sensory nerve monitoring
Computer-assisted, rod-bending technology
Intraoperative angular assessment tools
6.- Retractor: MaXcess retractor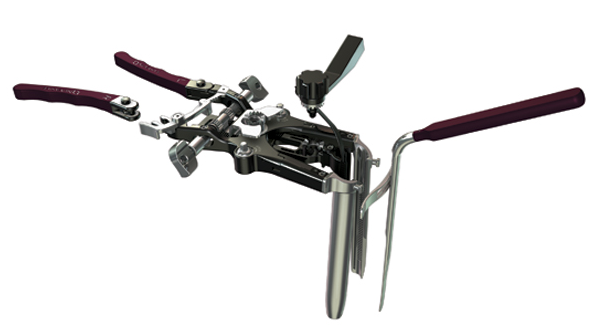 This retractor a further enhancement of the Company's MaXcess and MaXcess II systems, with the addition of several features that improve access to the spine. MaXcess III maintains the split-blade design and continues to incorporate the Company's NeuroVision nerve avoidance technology within the posterior retraction blade. MaXcess III adds a removable fourth blade, which provides greater posterior surgical options and incorporates an improved tilted blade-locking mechanism.
Number 3.- CASCADIA L| Stryker
Our Opinion: This Lateral system it is very well thought out. The implant made of Titanium with a 3D technology has a very high porosity and a lot of space for grafting. From our point of view, the most pointed out is the Ravine separator, which is what makes this system stand out from others.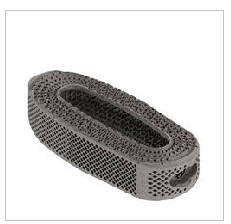 Why Modulus is our Number 3?
The CASCADIA™ Lateral 3D Interbody System includes a full range of implant sizes carefully designed to accommodate the vertebral anatomy. This system is designed to work with the RAVINE® Lateral Access System, offering a full line of instrumentation for the direct lateral transpsoas approach. Lamellar 3D Titanium Technology™ incorporates 500 um longitudinal channels throughout the implant, which in conjunction with transverse windows, create an interconnected lattice designed to allow for bony integration.
Features Lamellar 3D Titanium Interbody With Approximately 70% Porosity
Roughened Titanium Surfaces have been Shown to Demonstrate Increased Protein Expression in Contrast to Smooth Titanium Surfaces
Increased Bone Graft Volume Compared to Equivalent PEEK Design
Bulleted Nose to Ease Insertion into Collapsed Disc Spaces
Wide Range of Footprints Available with Parallel, 8°, 12°, & 15° Lordoses
Reverse Internal Hourglass Implant Design that Allows for Increased Endplate Contact with Large Bone Graft Volume
Ravine Lateral Access System: is a dual flat blade platform for a true muscle-splitting transpsoas approach, offering rigid fixation to the spine and an option for both a third and fourth blade. With its ability to fixate directly to the spine, Ravine effectively does away with a traditional table-mounted arm by actually referencing the patient. This system represents an innovative design departure from the tubular retractors, while providing adaptability to both patient anatomy and surgeon technique.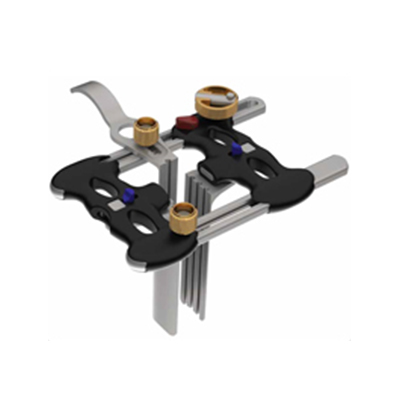 Variety of soft tissue dissectors and a robust guidewire to establish a path through the psoas muscle, navigating to the lumbar spine
Dual flat blade platform for a true muscle-splitting transpsoas approach; enters the psoas in-line with the muscle fibers
Retractor frame fixates directly to the spine through a variety of fixation pins and intradiscal shims
Reusable bifurcated light source
Allows for direct and fluoroscopic visualization of the disc space
Complete offering of disc preparation instruments, including curettes, rongeurs, rasps, disc spreaders, scrapers and cobb elevators
Full offering of Aleutian Lateral and Cascadia Lateral 3D interbodies and instruments specific to the far lateral approach