In recent years the market for lumbar expandable interbody implants has been growing. It advantages are many for Minimally Invasive approaches but also trying to maximize Lumbar Lordosis and to control Sagittal and Coronal Alignment.
The market for expandable cages is approximately $400 million. Globus Medical is the market leader, followed by many other companies such as Stryker, Nuvasive, LifeSpine, Orthofix, Astura Medical, Zavation, Spineology, Aegis Spine, Expanding Innovations or very recently Seaspine.
Among them, it is very difficult to choose the best three, since most of them are state-of-the-art products.We have taken into account the following criteria:
Minimum Disruption
Lordosis Restoration
Expandable Technology
Endplates Material/Porosity
Graft Delivery
Number 1.-SABLE™|Globus Medical
Our Opinion: SABLE is the best Posterior Lumbar Expandable implant. Globus Medical has an unbeatable expandable technology. After the magnificent RISE system, they have still been able to improve it in restoration capacity as well as optimizing fusion thanks to their 3D printed titanium endplates.
SABLE™ is an expandable posterior lumbar interbody spacer with 3D printed titanium endplates designed to minimize endplate disruption, maximize sagittal balance restoration, and optimize fusion with in situ graft delivery.
Why SABLE is our Number 1? Because it gets the best score on all criteria:
Minimum Disruption: It may be inserted at a contracted height as low as 6mm to help reduce endplate disruption, nerve root retraction, and impaction forces.
Lordosis Restoration: SABLE™ maximizes restoration because it provides up to 22° of lordosis and continuously expands up to 8mm to help restore sagittal balance and foraminal height.
Endplates Material: The 3D printed titanium endplates along with in situ graft delivery provide an optimal environment for fusion.
Expandable Technology: Fast and simple insertion and expansion of the implant.
In situ Graft Delivery
Number 2.-Mojave PL Exp | Stryker
Our Opinion: Developed by K2M, it is one of the products incorporated by Stryker to its portfolio. It is a very proven and easy to insert system. It is practically at the level of SABLE, but its less lordosis, and its lower degree of porosity of the end-plate makes us finally consider SABLE as number 1.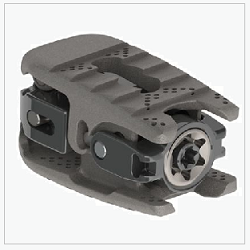 The Mojave PL 3D Expandable Interbody System is a fusion device designed to allow for independent control of the anterior and posterior height in the lumbar spine. This implant may be locked at any desired height and lordosis to aid in the restoration of sagittal balance.
Why Mojave is our Number 2?
Minimum Disruption: Intraoperative adjustment allows for the implant to be in a collapsed position during insertion to help minimize risk of damaging the ligaments, nerve roots, and intervertebral endplates
Lordosis Restoration: Comprehensive height and lordotic expansion ranges to fit patient anatomy (18° of lordosis)
Expandable Technology: Intuitive all-in-one instrumentation designed for fast and simple insertion and expansion of the implant
Endplates Material/Porosity: Lamellar 3D Titanium Technology incorporates 500 um longitudinal channels throughout the implant, which in conjunction with transverse windows, create an interconnected lattice designed to allow for bony integration.
Graft Delivery:Graft chamber allows the implant to be packed with bone graft prior to insertion.
Number 3.-TLX® 20|NuVasive
Our Opinion: It is also a great product! It is an improvement of the TLX implant to which they have updated with an additional 5 degree lordosis (TLX 20).It is very easy to insert and expand with minimum height of insertion. It has integrated graft Delivery. The only weakness-to say something-compared with the former products are the endplates porosity.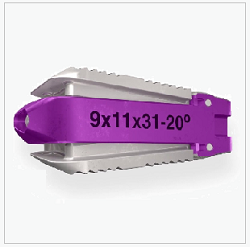 TLX® 20 is an expandable spinal interbody implant with a first-of-its-kind oblique profile designed for transforaminal lumbar interbody fusion (TLIF) procedures.
Why TLX® 20 is our Number 3?
Minimum Disruption:The implant features increased tapering at the distal tip to aid insertion into a collapsed disc space, common among patients with degenerative disc disease, while minimizing the disruption to the surrounding anatomy.
Lordosis Restoration: TLX 20 expandable implant's integrated auto-lock feature allows surgeons to incrementally customize expansion up to 20 degrees of oblique lordosis and tailor implant expansion based on a patient's clinical need, compared to many expandables in the market which only offer up to 15 degrees of lordosis.
Expandable Technology and Graft Delivery: Streamlined Performance.One multifunctional instrument designed to rapidly insert, expand and post pack the implant.