Medtronic launches in Europe the ADAPTIX Interbody system. It is the first fully navigated TLIF device to feature the Titan NanoLOCK Surface Technology.
The Adaptix™ Interbody System with Titan nanoLOCK™ Surface Technology consists of additive manufactured titanium cages of various lengths and heights to accommodate patient anatomy.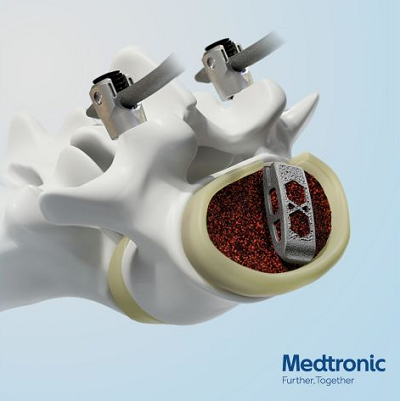 The interbody device has been treated with Titan Surface Technologies™, where nanoLOCK™ Surface Technology (MMN™) is designed to improve fixation to the adjacent bone.
The revolutionary Titan nanoLOCK surface is created through a subtractive manufacturing process that removes material and enables textures at the macro, micro, and nano (MMN) levels.*
The nanoLOCK Surface Technology is specifically engineered to have nano textured features at a nanometer (10-9) level†, which have demonstrated the ability to elicit an endogenous cellular and biochemical response attributed to these nanotextured features in vitro. The nanoLOCK Surface Technology has demonstrated the elements to be considered a nanotechnology as outlined in the FDA nanotechnology guidance document.
About Medtronic
Medtronic plc (www.medtronic.com), headquartered in Dublin, Ireland, is among the world's largest medical technology, services and solutions companies – alleviating pain, restoring health and extending life for millions of people around the world. Medtronic employs more than 90,000 people worldwide, serving physicians, hospitals and patients in more than 150 countries.