In 2020, at least 20 spine products have been launched on the market. Due to COVID 19, from the month of March to April, there were no releases. The companies that have been most active in incorporating new systems have been Seaspine (6) and Zavation Medical (3). Both companies have joined the expandable technology. Almost a third of the launches have focused on cervical pathology with 3D Stand-alone cages.Noteworthy is the launch of the first expandable stand alone cage from Atlas Medical.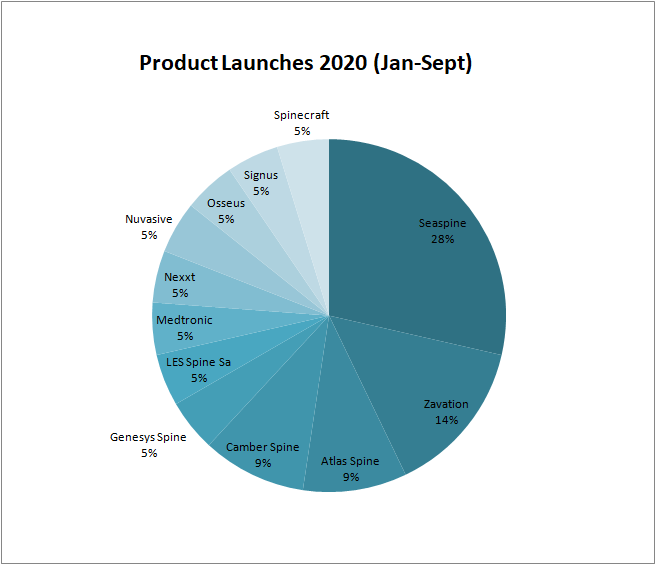 List of 20 product launches in 2020 (Until January-September):
1.-V3 Guided Segmental Plating System | Atlas Spine
January 2020, Atlas Spine Inc., a spinal implant company based in Jupiter, Florida, announced today the launch of its V3 Guided Segmental Plating System. The V3 system itself is comprised of an assortment of small, low-profile, segmental cervical plates and streamlined instruments that together provide a novel "guided" capability making accurate implant placement safer, easier, and more predictable for surgeons during Anterior Cervical Discectomy and Fusion (ACDF).
2.-ASTRA-OCT System | SpineCraft
January 2020 –The ASTRA-OCT System is a comprehensive set of implants and instruments to stabilize the spine in patients undergoing posterior cervical fusion. The system was developed to address unmet needs in complex posterior spine fixation procedures, revisions and extensions.
ASTRA-OCT includes a wide range of screw, connector and rod options for both the cervical and thoracic spine. The implants provide the flexibility required to accommodate variations in patient anatomy and surgical techniques. The ability to cross the Cervical Thoracic junction with ASTRA-OCT reduces the number of instrument trays from five to two thereby improving operating workflow while reducing hospital processing costs.
3.-JASPIS® ST | SIGNUS Medizintechnik
January 2020–The new family member of the ST-Line by SIGNUS is called JASPIS® ST which recently received CE-approval. The cervical cage originates from the RABEA design, which received the world's first CE-approval for a plane-parallel fusion cage in 1996. ST stands for Structural Titanium – an additive production process.
The titanium grid structure imitates the architecture of natural cancellous bone to optimise inter-corporeal fusion. The open design of the implant permits the cage to be packed with natural or synthetic bone graft substitute such as KAINOS® Inject, creating the optimal foundation for osseointegration. The roughness of the implant in addition with SIGNUS proven toothed endplate design secures anchorage in the bone owing to high primary stability.
4.-Sacroiliac Joint Fusion System | Genesys Spine
February 20, 2020 Genesys Spine announced the launch of a Sacroiliac Joint Fusion System.The Genesys Spine Sacroiliac Joint Fusion System consists of partially threaded and fully threaded implants designed to secure the sacroiliac joint and minimize micro-motion enabling bony fusion.
5.-Aries™-TS | Osseus
February 4th, 2020, Osseus Fusion Systems announced the official Alpha Launch of Aries™-TS, its 3D printed transforaminallumbar interbody fusion device.Aries™ devices are constructed from highly porous titanium material, which is optimized for bone fusion and biological fixation using PL3XUS, Osseus' innovative and proprietary 3D-printing technology. PL3XUS titanium technology utilizes powder bed fusion, specifically Selective Laser Melting (SLM), to create 80% porous implants with increased bone graft packability and lower stiffness compared to competitive devices on the market. Aries™ implants are manufactured in 30-micron layers of titanium powder and sintered in solid, porous parts, in sequential layers.
6.-SPIRA®– C and FORTICO™ | Camber Spine
May 7, 2020 Camber Spine, announced the FDA clearance and nationwide launch for two novel anterior cervical products: The SPIRA®– C Integrated Interbody system, a stand-alone integrated fixation system, and the FORTICO™ Anterior Cervical Plating System, a two screw plating system intended for anterior screw fixation to the cervical spine (C2-T1) in skeletally mature patients.
7.-eZspand™ Expandable Cage | Zavation Medical
May 26, Zavation Medical Products announced the launch of eZspand™, an expandable lumbar interbody fusion device.eZspand™, the latest addition to Zavation's portfolio, features unmatched expandable precision paired with continual expansion to provide an optimized fit for each patient.
8.-NorthStar OCT and Cervical Facet Fusion | Seaspine
June 22, 2020 SeaSpine Holdings Corporation (NASDAQ: SPNE), announced the limited commercial launches and completion of initial surgeries of both its NorthStar OCT and Cervical Facet Fusion systems, which significantly expand its procedural offerings for posterior cervical fusion.The NorthStar OCT system's novel, anatomically designed implants connect seamlessly with the versatile instrumentation platform allowing spine surgeons and hospitals to more efficiently address today's wide variety of pathologies. NorthStar's innovation is showcased by multipurpose instruments that help reduce steps in the procedure to save OR time and implants meticulously designed to address any anatomical challenges that may occur.
9.-Reline 3D™, a posterior fixation system | Nuvasive
June 18, 2020 NuVasive, Inc., announced the expansion of its complex spine portfolio with the global commercial availability of Reline 3D™, a posterior fixation system for patients suffering from pediatric spinal deformities.The Reline 3D system offers simultaneous and three-dimensional deformity correction via a simplified procedure.
10.-Mariner MIS and Mariner Outrigger | Seaspine
June 30, 2020 SeaSpine Holdings Corporation (NASDAQ: SPNE), announced the full commercial launches of Mariner MIS and Mariner Outrigger.The Mariner MIS system expands upon the uncompromised strength of Mariner's thread-on modular head technology by incorporating reduction options to optimize the system for a tissue sparing, MIS approach. The Mariner® Outrigger system features thoughtfully designed, purposeful instrumentation to enhance surgical flow in revision of previous fusions.

11.-Expandable Lateral Lumbar Plate | Zavation Medical
July 28, 2020 Zavation Medical Products announced the launch of both the Expandable Anterior Lumbar Plate and the Expandable Lateral Lumbar Plate, plates designed for use in the lumbar spine as supplemental fixation devices.The Expandable Anterior Lumbar Plate is a low-profile plate design that provides a stable construct with the ability to expand and lock at the required length. This plate also includes a ledge feature which provides guidance to properly position and expand the plate on the vertebral body. The new Z-Span plates outperformed the predicates in regard to standard ASTM mechanical testing.
12.-A-CIFT SoloFuse Hyperlordotic | LES Spine Innovations and Sagitechnology
August 08, 2020, LES Spine Innovations and Sagitechnology announced the launch of the new A-CIFT SoloFuse Hyperlordotic Cervical Standalone Interbody System, the first ever HA impregnated standalone cervical cage for greater sagittal correction.
13.-HiJAK SA Expandable Cervical Stand-Alone | Atlas Spine
August 19, 2020 Atlas Spine, Inc., announced the launch of its HiJAK SA Expandable Cervical Stand-Alone Interbody system.Designed for the surgeon who recognizes the importance of sagittal balance restoration, HiJAK SA is the FIRST expandable cervical stand-alone interbody to offer ADJUSTABLE HEIGHT and LORDOSIS with the added simplicity of integrated fixation. The integrated plate design provides better screw accessibility and greater bone purchase vs. typical "zero profile" stand-alone devices.
14.- Titanium/PEEK Posterior LEIF | Zavation Medical
August. 25, 2020 Zavation Medical Products announced the launch of the Titanium/PEEK Posterior LEIF (Lateral Expandable Interbody Fusion) cage.The cage is designed to provide structural stability in a shape that accommodates a posterior or transforaminal approach to the lumbar spine. It is available in various heights and geometric options to fit the anatomical needs of a wide variety of patients. After insertion, the implant can be expanded to a larger footprint which doubles the graft volume, and it can then be filled with autogenous bone graft material through the inserter.
15.- ADAPTIX Cage | Medtronic
August 31, 2020 Medtronic launched in Europe the ADAPTIX Interbody system. It is the first fully navigated TLIF device to feature the Titan NanoLOCK Surface Technology.
16.-V-STRUT© Vertebral implant | Hyprevention
August 30, 2020 Hyprevention started in the US to introduce their new product V-STRUT with Dawa Medical LLC.V-STRUT© Vertebral implant is an unique new product indicated to treat vertebral fractures using pedicle anchorage and material close to the normal bone.Two implants, made of PEEK polymer, are inserted in the vertebral body through the pedicles and combined with PMMA bone cement.Medical device.
17.-Shoreline RT Cervical | Seaspine
August. 27, 2020 SeaSpine Holdings Corporation announced the full commercial launch of the Shoreline RT Cervical Interbody Implant System. Shoreline RT describes a series of products that enhance NanoMetalene® technology with the Company's proprietary Reef Topography™.The Shoreline RT system includes multiple footprints, as well as 10- and 15-degree lordotic implant options, both of which allow surgeons the ability to intraoperatively address a wide range of anatomy and surgical situations.
18.-Explorer™ TO expandable | Seaspine
September 9th, SeaSpine announced the limited commercial launch of its Explorer™ TO expandable lumbar interbody device.The device offers expansion options for both height and lordosis restoration.Explorer TO was cleared by the FDA in March 2020 as Skipjack, which was the name used during the alpha launch phase.
19.-Stand Alone Cervical Turn Lock (TL) | Nexxt Spine
September 21, 2020 Nexxt Spine LLC, launched the Stand Alone Cervical Turn Lock (TL) that incorporates the dual functionality of a cervical interbody and anterior plate with the added assurance of an integrated one step turn lock.The Stand Alone Cervical Turn Lock System is available in multiple footprints of sterile packed interbodies and accompanying screw sizes for varying patient anatomy. The zero profile construct eliminates the need for traditional plate and screw fixation. Additionally, an effortless 90° one step turn lock is designed to increase surgeon confidence and procedural efficiency. Surgeon highlights of the seamless system include visual confirmation of screw placement, preventable screw backout and self-guided instrumentation.
20.-WaveForm C Interbody Implant System | Seaspine
September 23, 2020 SeaSpine Holdings Corporation announced the limited commercial launch of its WaveForm C Interbody Implant System. WaveForm C represents the first of five 3D-printed interbody devices that the Company anticipates launching by mid-2021. This first limited launch marks the one-year anniversary of the SeaSpine and restor3d exclusive field-based licensing agreement.The WaveForm C implant offers the next level of 3D-printed architectural innovation, balancing key geometric, manufacturing and clinical requirements.