In 2019, the total spine market was valued at $9 billion worldwide, growing 3% related to 2018. The growing demand for MIS spine surgeries, the introduction of 3D printed implants and the availability of technology such as robotics have been some of the emerging trends, which have contributed to the growth of the global spinal implant market in 2019.
The top 5 competitors by market share in the spine market are Medtronic, Johnson&Johnson (DePuy Synthes), NuVasive, Stryker and Globus Medical.
Today´s Spine Market Shares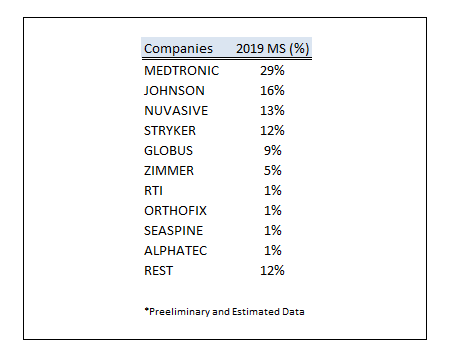 Full 2019 Revenues and Highlights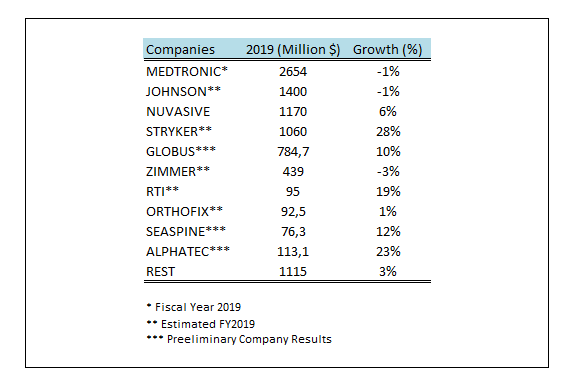 1.-Medtronic
Medtronic leads the spine market with 29%.
FY19 Revenue in Spine of $2.6 Billion Growth -0.5%
Use of robotics, navigation, imaging, and powered surgical instruments to increase global Spine revenue.
Launch of the Infinity(TM) OCT system
Solid growth of the Prestige LP(TM) cervical disc system.
2.- Johnson&Johnson (Depuy Synthes)
FY19 Revenue in Spine&Other of $3,2 Billion Grew -2.0%. (See Chart)
FY19 Estimated Revenue in Spine (without the Rest of the Businesses) of $1.4 Billion Growth -0.9%.
Agreement to Acquire Remaining Stake in Verb Surgical Inc.
Launch of a New Cervical Spine System from DePuy Synthes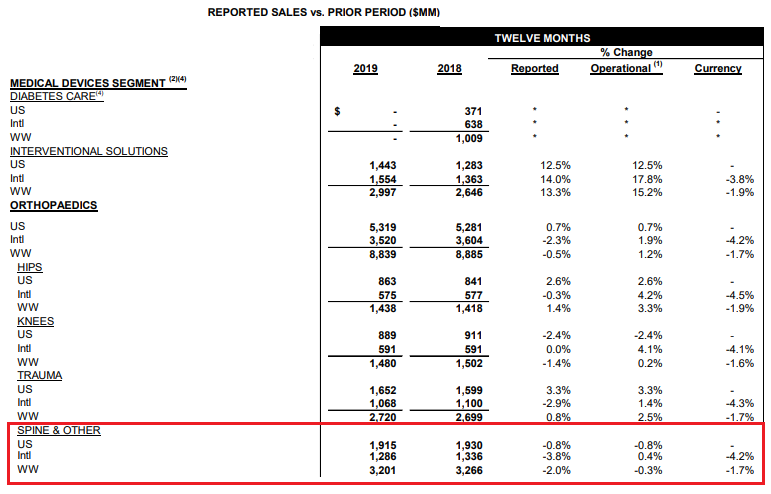 3.-.NuVasive
Revenue of approximately $1.17 billion, increased approximately 6% on a reported basis and approximately 7% on a constant currency basis; NuVasive will report its full financial results for 2019 and provide its financial outlook for 2020 during its earnings announcement planned for late February.
Launch of Porous Titanium Implant expanding their Cervical Advanced Materials Science™ Portfolio
Launch of the Lateral Single-Position Surgery With Introduction Of X360™ System
4.-Stryker
FY19 Estimated Revenue in Spine (without the Fourth Quarter estimated) of $1.06 Billion. Growth +28%.
Acquisition of Mobius Imaging, LLC, a leader in point-of-care imaging technology, and its sister company, GYS Tech, LLC (DBA Cardan Robotics).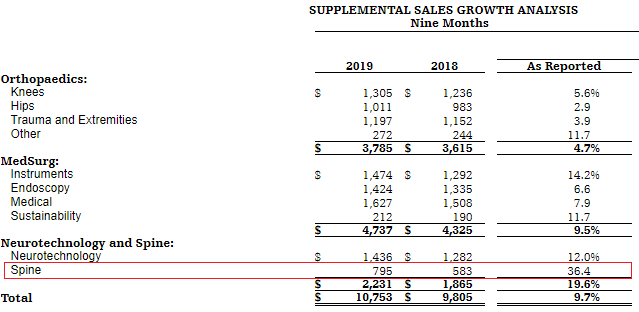 5.-Globus Medical
Globus Medical's full year 2019 sales are expected to be approximately $784.7 million, an increase of 10.1% over the prior year. http://www.investors.globusmedical.com
Implant growth pull through from robotics.
Launch of AERIAL™, a minimally invasive expandable interspinous fixation system.
6.-Zimmer Biomet
FY19 Estimated Revenue in Spine&CMF (without the Fourth Quarter estimated) of $7,4 Billion Grew -2.8%.
FY19 Estimated Revenue in Spine (without CMF) of $4.4 Billion Growth -3.1%.
Launch of TrellOss-TC (TLIF curved) Porous Titanium Interbody Platform.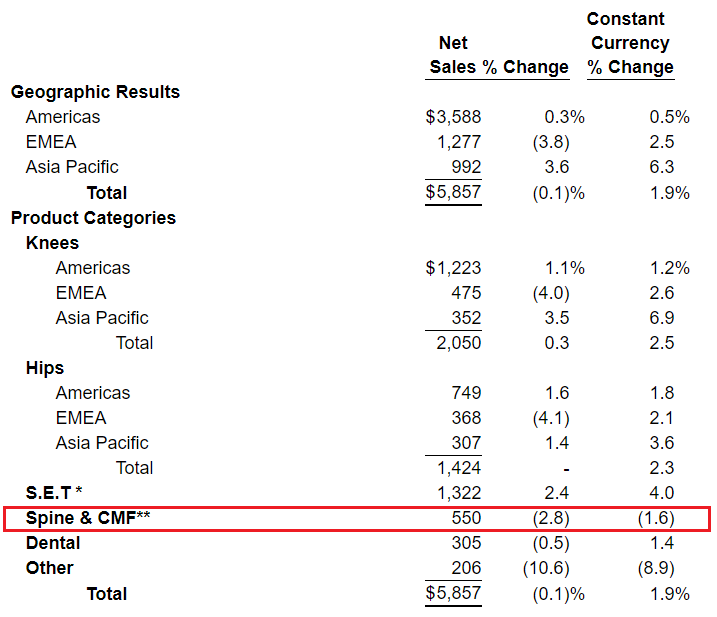 7.-RTI Surgical
FY19 Estimated Revenue in Spine (without the Fourth Quarter estimated) of $9,5 Billion Grew +19.5%.
Acquisition of Paradigm Spine
Sale of OEM business
Growth Driven By the Addition of coflex® Interlaminar Stabilization®.The second quarter 2019 revenue included $10.1 million global contribution from the acquisition of Paradigm Spine
Launch of the CervAlign® Anterior Cervical Plate System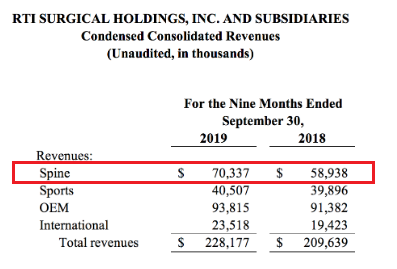 8.-Orthofix
FY19 Estimated Revenue in Spine (without the Fourth Quarter estimated) of $9,2 Billion Grew +1%.
Succesful sales trajectory of the M6 cervical disc in the U.S
9.-SeaSpine
FY19 Preliminary and unaudited full-year 2019 revenue is expected to be in the range of $158.7 to $159.1 million, reflecting growth of approximately 11% over full-year 2018.
FY19 Preliminary and unaudited full-year 2019 revenue ONLY SPINE is expected to be in the range of $76.3 reflecting growth of approximately 12% over full-year 2018.
Launch of the Mariner® Midline Posterior Fixation System
Launch of the Shoreline RT™ Cervical Interbody Implant System, featuring Reef Topography™
Launch of Regatta® Lateral System
10.-Alphatec Spine
FY19 Preliminary and unaudited full-year 2019 revenue is expected to be in the range of $113.1 million to $113.5 million, reflecting growth of approximately 11% over full-year 2018. http://investors.alphatecspine.com
Launch of the IdentiTi™ TLIF Porous Oblique System,
Launch of the IdentiTi™ LIF Systems
Launch of the AMP™ Anti-Migration LIF Plate System
Launch of Transcend™ Lateral Interbody Spacer
Launch of Trestle Luxe® II Anterior Cervical Plate System

11.-Others
According to our estimates, there are more than 400 spinal companies worldwide. The 10 top players account for the 90% of the market while the rest 390 companies represent 10% of the spine implants global sales (1115 $Millions). To know more about those companies, please visit:http://www.thespinemarketgroup.com/category/spine-companies/