We are already at NASS 2020! Although with the limitations of being virtual, a large part of the Spine Companies have maintained their participation in this year complicated by COVID. After visiting the different virtual booths we want to share with you our impressions. We consider that every year the NASS 2020 is an indicator of trends and the market situation.
Who have been the Sponsors?
The main sponsors have been Globus Medical, Medtronic and Stryker. We can highlight the magnificent virtual booth of Globus Medical consistent with its involvement in this event. We are surprised by the absence of a company like Nuvasive.

From the point of view of industry (not science), what can we comment on?
The leading companies in the market seek differentiation through TECHNOLOGY. With practically complete portfolios, it is robotics and advances in image that make the difference with respect to other competitors.In the following chart we can see the technology displayed in this event:
3D technology and the stand-alone concept for interbody cages is undoubtedly a trend. All the companies that lead the market are completing their range of products with this type of implants, such as Medtronic, which has launched Adaptix, and Globus with its Hedron range. (See Chart 2).
Artificial Discs: Artificial discs seem to be back on trend. Medtronic (Prestige), Zimmer Biomet (Moby-C) and Orthofix (M6-C) speak again and highlight these products in NASS 2020 (Chart 2).
MIS and lateral surgery are certainly still important market segments. All companies seek to improve their systems that facilitate MIS and lateral techniques and are compatible with new technologies. (Chart 2).
Grafts:Each time they are gaining more importance and above all this market is increasingly segmented, also looking for its ease of application.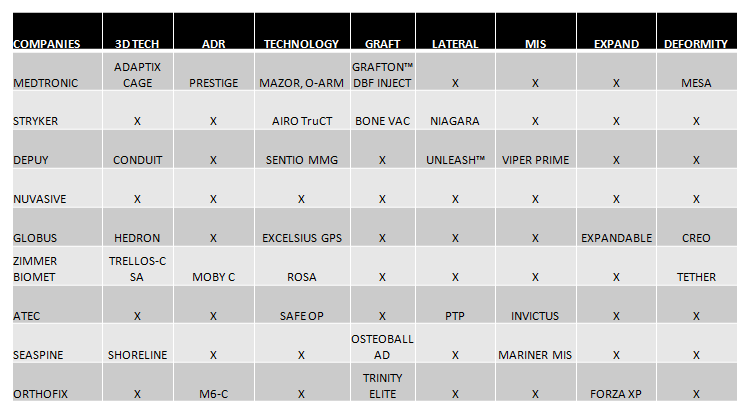 What are the main products that market leaders are exhibiting at NASS 2020?
1.- Medtronic
This year, the Medtronic booth is also worth visiting, mainly for its technological advances such as the Robot or the new O-arm. Also of interest are the new releases from Kyphon and especially the Adaptix ™ Interbody System with Titan nanoLOCK ™ Surface Technology.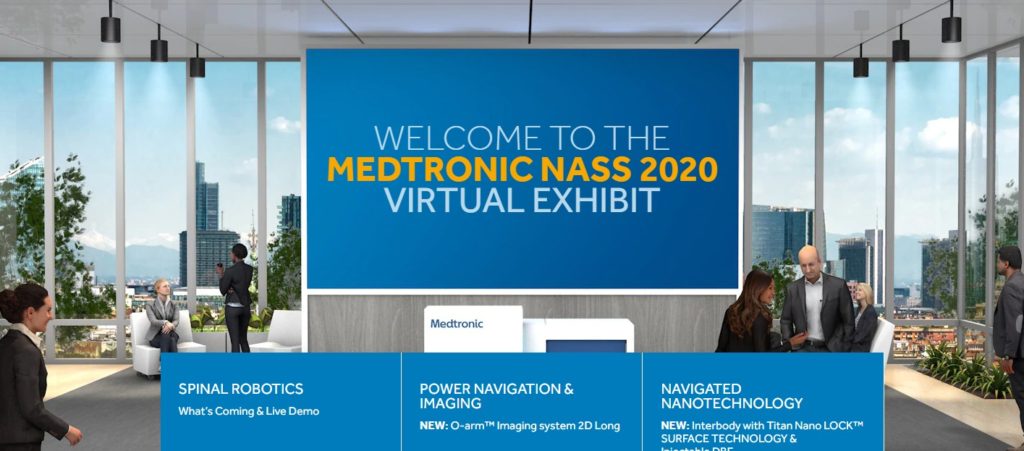 Adaptix™ Interbody System with Titan nanoLOCK™: Enhanced with Titan nanoLOCK™ Surface Technology and enabled with StealthStation™ Navigation capabilities, Adaptix™ Interbody System delivers proven bone growth and procedural efficiency.
Prestige LP™ Cervical Disc SystemThe Prestige LP™ Cervical Disc System is designed to allow for postoperative range of motion via a ball and trough mechanism. It is the first FDA-approved one- and two-level cervical disc with 10-year IDE study data.
Mazor™ Robotic Guidance Platform:Mazor™ Robotic Guidance Platform is transforming spine surgery from art to state-of-the-art science with predictability of planning, precision of robotics, the visibility of Stealth™ navigation.
Grafton™ DBF Inject: Grafton™ DBF Inject is a 100% carrier-free fiber based demineralized bone graft (DBM) that is pre-packaged in a syringe that allows for targeted graft delivery in Open & MIS procedures.
O-arm™ Surgical Imaging System, with 2D Long Film
2.- Stryker
This year they don't really have any notable novelties except for the Niagara retractor.
Airo TruCT: A highly mobile CT scanner with the largest bore available to help maintain overall surgical accuracy and a highly efficient workflow.
Niagara Lateral Access System:The Niagara Lateral Access System is a comprehensive minimally invasive lateral surgery platform designed to allow control of the operative site through precision, visibility, and flexibility.
Mesa 2 Deformity Spinal System: Mesa 2 screws are top-loading, low-profile, and feature Zero-Torque Technology. Streamlined instrumentation designed for efficiency and ease of use. This system is poised to address the most difficult correction maneuvers for complex spinal pathologies..
SpineJack:For 35 years, osteoporotic vertebral compression fracture (VCF) treatment has focused primarily on pain management. Traditional fracture treatments have overlooked reduction, fixation and restoration due to the limits of the instrumentation.
Bone Vac: Put bone dust to work for you, quickly and easily. Using your existing drill and surgical suction, our Bone Vac collects drilled bone dust through existing surgical suction.
3.-DePuySynthes
Depuy Synthes has strengthened its MIS and Lateral offering the Viper Prime and incorporating its range of 3D cages (Conduit).
CONDUIT™ Interbody Platform: FIRST 3D- printed cage platform with nano-scale features cleared by the FDA! 3D printed Cellular Titanium Implants.
SYMPHONY™ OCT System: Next generation posterior OCT System designed to address unmet needs in Fixation in sub-optimal bone, Deformity, Precision Targeting and Revisions.
VIPER PRIME™ System: The VIPER PRIME™ percutaneous pedicle screw system features an integrated stylet and self-starting screw tip design for one single instrument pass for preparation, tapping, and screw insertion with standard and cortical fix fenestrated thread options.
UNLEASH™ ATP/LateralThe UNLEASH™ ATP/Lateral Procedural Solution is a surgical platform that improves surgical workflow, enhances fusion and improves resource utilization so that surgeons can achieve the best possible and most repeatable outcome in the most efficient manner.
SENTIO MMG PlatformNerve-mapping software allows surgeon-directed intraoperative monitoring, without the need for extra staff, equipment & preparation.
4.- Globus Medical Virtual Booth
In addition to being the main sponsor of NASS 2020, Globus has designed a virtual booth that can be navigated and visited. Without a doubt the best of the congress.
Why visit it? The virtual Booth is very well designed and very complete. Includes all the latest products, as well as webinars and training programs.
It is worth seeing: The Excelsius robot, Expansive Technology and the Hedron 3D Cages range
5.- Zimmer Biomet
We highlight the launch of The Tether.
Mobi-C Cervical Disc: Statistical Superiority in Overall Trial Success Compared to Fusion for Two-Level Disc Replacement at Seven Years.
The Tether™ – Vertebral Body Tethering System:The Tether™ is the first and only FDA-Approved Vertebral Body Tethering System and a potential alternative to spinal fusion for the treatment for idiopathic scoliosis in skeletally immature patients..
ROSA ONE® Spine:ROSA ONE® Spine is a robotic and surgical navigation system designed to aid surgeons in performing minimally invasive thoracolumbar spine procedures. ROSA ONE Spine is designed to accommodate the surgical workflow.
TrellOss-C SA:A 3D printed titanium cervical standalone device featuring a scaffold structure with 70% porosity and a 7 micron roughened surface topography to foster a cellular relevant environment for adhesion and bone ingrowth.
Despite the difficulties, this company continues to be among the leading companies in the market. In the last year, they have made a significant effort with the launch of new products as well as technology. It is worth knowing the Novel PTP approach (Prone Transpsoas).
PTP™:PTP leverages a maximally efficient prone positioning while providing a consistently reproducible approach that allows the surgeon user to achieve greater alignment goals.
SingleStep™:Invictus MIS SingleStep is a simplified approach to traditional minimally invasive pedicle screw placement, utilizing an all-in-one driver designed to improve surgical efficiency without compromising accuracy.
SafeOp™:ATEC's SafeOp Neural Informatix System provides surgeons real-time, actionable information to detect and monitor the health of nerves at risk.
Sigma™:Sigma Pedicle-based Access System provides direct visualization of key anatomical landmarks creating a reproducible TLIF approach.
Invictus™ MIS Modular:Invictus Modular Fixation System is designed to enhance the adaptability of the Invictus Spinal Fixation System with the power of modularity.
7.- SEASPINE
Shoreline® ACS Cervical Fixation System: Shoreline® ACS provides TruProfile® and No-profile cervical spinal fixation & realignment, with ultimate system flexibility, construct modularity, & refined instrumentation.
Mariner® MIS Posterior Fixation System:Mariner® MIS Posterior Fixation System is a premier pedicle screw system built upon the Mariner modular platform. Featuring modular threaded technology with thoughtfully designed instrumentation and packaged in a streamlined offering.
Mariner® Outrigger™ Posterior Fixation System:Mariner® Outrigger™ features thoughtfully designed, purposeful instrumentation to enhance surgical flow. The system offers unique clinical solutions by providing diversified implants to enable complex revision and extension spine procedures.
OsteoBallast® DBM in Resorbable Mesh:For posterior spinal fusion procedures, OsteoBallast is an easy-to-deliver, migration resistant, inductive bone graft.
OsteoStrand™ Plus Demineralized Bone Fibers:OsteoStrand™ Plus fibers were developed through a disciplined R&D process that evaluated a variety of fiber geometries to deliver osteoinductivity, osteoconductivity, intraoperative handling, and controlled expansion.
8.- ORTHOFIX
M6-C™ artificial cervical discThe M6-C™ artificial cervical disc offers an innovative non-fusion solution in treating degeneration of the cervical disc. The M6-C device is the only artificial cervical disc that mimics the structure and movement of a natural disc.
FIREBIRD™ SI Fusion SystemThe FIREBIRD™ SI Fusion System is the first 3D-printed SI screw. This novel system features a 3D-printed porous nanotechnology mid-shaft region designed to allow for bone through growth through the device to aid in the fusion process.
O-GENESIS™ Graft System + Trinity ELITE™ AllograftTrinity ELITE™ allograft has been clinically shown to be safe and efficacious, including successful outcomes in high-risk patients. Trinity ELITE is compatible with the new O-GENESIS™ Graft Delivery System for efficient MIS application.
Connector SystemThe Connector System is a comprehensive system designed to reduce the complexity of revising and extending existing spinal constructs.
FORZA® XP Expandable Spacer SystemThe FORZA® XP Expandable Spacer System is a titanium alloy expandable interbody for PLIF/TLIF procedures. The system features a range of spacers with height expansion capability to fit patient anatomy and unique instrumentation for an efficient procedure.